A Guide to How We Protect Your Information
Learn how Notre Dame FCU protects the information you provide and how you can take steps to protect yourself from fraud and identity theft.
Privacy Policy
Protecting your privacy is important to us. Please read our Policy below to learn how we treat information you provide.
We want our users to always be aware of any information we collect, how we use it, and under what circumstances, if any, we disclose it. We respect each site visitor's right to personal privacy. To that end, we collect and use information throughout our Website only as disclosed in this Privacy Policy. This statement applies solely to information collected on this Website.
The information we collect is never shared with other organizations for commercial purposes and used only for internal Web site traffic reporting. For each visitor to our Website, our Web server automatically recognizes only the visitor's domain name.
Cookies Disclosure
We may collect, analyze and store general statistical information of your usage of the website, (such as your IP address, browser type, originating domain names, access times and referring website addresses) through the use of first party cookies.
You can refuse to accept these cookies on each browser and device through which you visit this website. Keep in mind that by not accepting cookies, you may experience some inconvenience using this website and the products and services offered on this website.
We use cookies that you accept to improve the content and determine the effectiveness of our website, to personalize your experience, and analyze usage data. We may partner with third parties such as Google to monitor activities on our website including web traffic, statistics, and/or other activities in order to improve browsing experiences on our website. Our partner may use cookies, web beacons, and/or other monitoring technologies to compile statistics about website visitors.
If you fill out a web form on this site your information will be stored in our CRM system and/or CMS and some amount of your past browsing on this site may be available to our staff to determine your interests so we may more effectively engage with you and so we may improve our site. If you do not wish for us to have your personal information please do not fill out any of the web forms on this site. We never sell or give away this information.
What fees do we charge?
A complete listing of our fees can be found in our Fee Schedule here.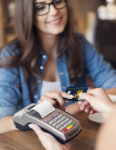 The Controls & Alerts App periodically collects, transmits, and uses geolocation information to enable feature that prevent fraudulent card use and send alerts, but only if the End User expressly authorizes collection of such information. Geolocation information can be monitored on a continuous basis in the background only while the Solution is being used or not at all, depending on the End User's selection. End Users can change their location permissions at any time in their device settings.
At Notre Dame Federal Credit Union, we are committed to protecting you, as well as your account and personal information. It is important to keep in mind that because you are a Member-Owner, we already have all of your personal information. We will never contact you to obtain that information via any means, including email, telephone, mail, instant or text messaging, etc. Additionally, we employ a number of safety and security measures to safeguard your money and your identity.
Online Banking

Multi-factor authentication helps ensure your login security

Verified by Visa

An extra layer of security while shopping online with certain merchants

Encrypted ATM Transactions

Each transaction is encrypted to keep your card and PIN safe

Cyveillance

Our partnership with this world leader in cyber intelligence, allows us to identify and eliminate threats before they cause significant harm

Real-Time Fraud Monitoring

Monitoring on your debit and credit card transactions to identify any potential compromised cards

Intrusion Detection Technology

Our computer networks are equipped with this technology to prevent unwanted and unauthorized access

Annual Security Training

Each year, our employees undergo mandatory training to reinforce our safeguarding policies, as well as, to educate employees of new threats, scams, and criminal activities
How You Can Protect Yourself
In addition to monitoring your account transactions and statements, here are some additional tips to protect your information.
Shred

You should always shred all financial documents and paperwork with personal information before you discard them.

Guard

You should guard your Social Security Number (SSN). Give out only when necessary and only when a different form of ID cannot be used

Do Not Click

Do Not Click on links sent in unsolicited emails. Always use firewalls, anti-spyware, and anti-virus software to protect your computer; keep them up-to-date

Never Provide

You should never provide your personal information in response to an unsolicited request, whether it is over the phone or on the internet

Report

Report any lost or stolen credit or debit cards to the credit union immediately

Switch

Switch to eStatements to protect your personal account information from unauthorized access out of your mailbox
Security in the Palm of Your Hand
Ready to take control of your card security with Irish Card Shield? Select your device type below to get started.
Still have questions?
Simply fill out a request for information and a Notre Dame FCU representative will contact you shortly.
"*" indicates required fields