Mission Focused Banking
Move your non-profit forward with flexible financial tools and dedicated support. Plus, earn up to 5.00% APR with an Ultimate Non-Profit Checking account!

Pick the Account that's Right for You
Move your business forward with more perks and fewer fees. Earn dividends on your business checking account.
Ultimate Business Checking

Earn dividends when you maintain a balance of more than $50,000.

• No monthly fees

• No transaction limits

• No deposit fees

• No minimum balance requirements

View rates

Ultimate Non-Profit Checking

Earn higher dividends and up to 5.00% APR with no fees. Your time and money go where it's needed most—your mission. Plus, qualified non-profits can boost fundraising through our Elevate Program.

• No deposit fees

• No transaction limits

• No monthly fees

• No minimum balance requirements

View rates

Business Share Draft Checking

Designed for businesses with low to moderate activity.

• No monthly service fee

• No Minimum Balance

• Non-Dividend Bearing

View rates
No More Bake-Sales!
Make fundraising EASY with our ELEVATE program! When you use Notre Dame FCU as your financial institution, you can direct funds to the non-profit organization of your choice.
I would recommend Notre Dame FCU because it has been so wonderful working with them.
Fr. James Aboyi,
St. Benedict's Parish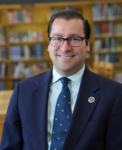 We've been so delighted to partner with Notre Dame FCU over the past few years.
JAYCOB,
Andrean High School | Member-Owner Since 2020
I would consider Notre Dame Federal Credit Union a Partner.
PAUL EDDY,
Sacred Heart Parish, Notre Dame | Member-Owner Since 1984
When Businesses Thrive, the Community Thrives
Empowerment is at the heart of everything we do. We want to empower the business owners and non-profit leaders who strengthen our communities. Combining concierge-level service with local decision-makers, we are able to offer the most competitive products, and when a question or new need arises, we are able to adapt and pivot quickly to meet your needs.
Non-Profit Solutions

"Elevate" your fundraising efforts and earn higher yields without monthly fees.

Learn More

Business Solutions

Free checking, flexible accounts and convenient services—all in one place.

Get in Touch

Merchant Services

Don't let fees cut into your hard-earned profits. Find a payment processing solution that works for you.

Learn More
Opening Your Account is Easy

What You Need:
1. Proof of Federal Tax ID number in the business name.
2. ID of all authorized users on the account.
3. Documents verifying information about the business and who is authorized to act on behalf of the business.
Move Your Mission Forward
When you have the tools you need to succeed, you can focus on your next opportunity.
Learn More about Mission-Focused Banking
Simply fill out a request for information and a Notre Dame FCU Business representative will contact you shortly.
"*" indicates required fields
APY is annual percentage yield. Earn an additional rate bonus of 0.25% if your aggregate balances across all your Ultimate Non-Profit Checking Accounts exceed $100,000.